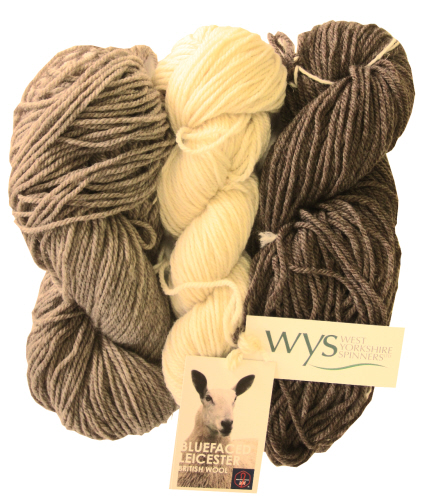 WYS Bluefaced Leicester Aran Yarn 100g Hanks
Ref: KYWAR
BUY BRITISH - both the wool and the spinning are from England!
NATURAL COLOURS - UN-DYED
WEST YORKSHIRE SPINNERS LTD: West Yorkshire Spinners source all their own raw material which is then produced into yarn in their state of the art factory based in West Yorkshire, England. This reduces the carbon footprint of their products and also enables them to manufacture at a very low cost, which is passed on to you.
BLUEFACED LEICESTER WOOL: The Bluefaced Leicester evolved near Hexham in the county of Northumberland, England, during the early 1900's. They are descendants of Robert Bakewell's improved Dishley Leicester. The breed originated from Border Leicester individuals selected for the blue face (white hairs on black skin) and finer fleeces. It was developed as a sire of high quality crossbred ewes.
100% ARAN BLUEFACED LEICESTER YARN: aran thickness, spun at their mill in Yorkshire.
| | |
| --- | --- |
| Composition: | 100% Bluefaced Leicester wool, natural colours, un-dyed |
| Washing: | Handwash at 30 degrees, reshape while damp, do not tumble dry |
| Ball Size: | 100g hank - 166 m |
| Knitting Needles: | Typically 5 mm |
| Crochet Hook: | 5 mm |
| Tension: | Typically 18 st x 24 rows for 10 cm square (4 inches) over stocking stitch |
| Typical Quantity for Sweater for Medium Woman: | 9 hanks |